This post was written by Anaïs Niobey
Norman Market in St Helier
The Norman Market is back in town for the Motoring Festival!
From 31 May to 2 June, the traders will be in People's Park.
Many french products will be available: cheese, cider, apple juice, saucisson, dry sausages & pâtés… The hot food stand will welcome you to grab a bite anytime during the day with its hot sausage sandwiches for lunch or dinner!
Contact us for more info : info@maisondenormandie.com or 01534 280 110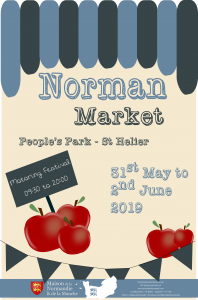 Find out more about the Motoring Festival, HERE.