This post was written by Christine Bonhomme
Presentation of the major artistic event in the region: Normandy Impressionist
The wonderful Normandy Impressionist Festival takes place, all over Normandy, from 16 April to 26 September 2016 and presents numerous events about the impressionist painters, their works and legacy.
Maison de la Normandie is proud to welcome Mrs Lola MILLET-BOURGOGNE from the festival Organization team, to present the event, on:
Wednesday 11th May 2016
1:15 PM
Maison de Normandie – 71 Halkett Place – St Helier.
Free of charge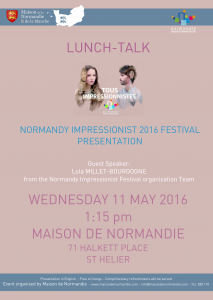 Come to our lunch-talks to learn more about events in Normandy and specific Norman themes!
Maison de la Normandie hosts, this year, a serie of lunch-talk in its office (71 Halkett Place) with guest-speakers from Normandy.
More about the Festival
The Normandy Impressionist Festival reflects this regional cultural heritage and proudly displays its history by staging large exhibitions of the movement's art. Masterpieces from around the world are brought together in the region. The festival also promotes contemporary interpretations of Impressionism by inviting French and foreign artists to produce new works on Impressionist themes.

The festival also presents important musical, theatrical, literary and festive events.

The distinctive characteristic of the Festival is that it is just as much a popular celebration, inviting all sections of the public to participate in the festivities organised by towns, associations and private individuals across the region during the summer period.

(extract from the Festival website: www.normandie-impressionniste.eu)