This post was written by Anaïs Niobey
Newsletter from Normandy
June 2021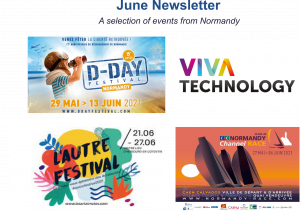 As you must have heard, following the fishing dispute between Jersey and France, Maison de la Normandie et de la Manche's office in St Helier is closed to the public until further notice.
However, we remain hopeful that a resolution will be found allowing us to reopen and that our institutional cooperation will continue as it has been for the past 26 years.
With this in mind, please find below our June newsletter about Normandy.
WHAT'S ON IN NORMANDY
France has opened up again its museums, cinemas, theatres, sport events, terraces… Here is a selection of events that will be taking place over the month of June.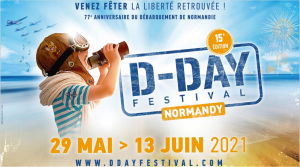 D-DAY FESTIVAL
2021 marks the 77th anniversary of the D-Day landings in Normandy. Though commemorations will be limited in numbers this year again, a programme of events with many guided tours and walks has been created for us all to celebrate the soldiers that have participated in this historical event.
If you are in Jersey, come have a look at our shop windows where you will be able to discover items from the Utah Beach museum including a miniature version of the Lone Sailor sculpture that will be inaugurated in Sainte-Marie-du-Mont (Manche) this June.
CULTURAL EVENTS
Click on the titles below to know more.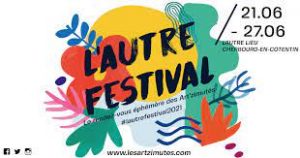 L'AUTRE FESTIVAL – LES ART'ZIMUTES
From Monday 21 to Sunday 27 June, L'Autre Festival is offering 7 days of music and street-art shows in Cherbourg-en-Cotentin (Manche).
From 10 June until 9 September, a local market is setting up on the "green beach" in Saint-Lô (Manche) every Thursday from 16:30. From 1st July, you will also be able to enjoy free concerts while perusing the market.
A CAEN, LA CULTURE SE DECONFINE
If you are walking through Caen (Calvados) these upcoming months, look out for various exhibitions in the streets, movies projected at night on public buildings, live concerts, heritage geocaching…
As part of the bicentenary of the birth of Gustave Flaubert, the County of Seine-Maritime has decided to honor the writer through a rich and varied cultural programme throughout 2021. Museums, cultural sites but also restaurants are taking part in the celebration by offering "Flaubert inspired menus". 
LES MUSICALES DE MORTAGNE ET DU PERCHE
This classical music festival will take place from 26 June to 11 July in diverse locations (churches, mansions, picturesque villages…) within the Orne County.
SAILING EVENTS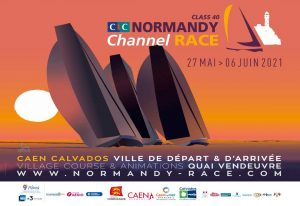 NORMANDY CHANNEL RACE
Come admire this sailing race of around 1,000 miles in the English Channel and the Celtic Sea started on 29 May and returning to Caen (Calvados) on 6 June.
From 25 to 27 June, celebrate the sea in Régneville-sur-Mer (Manche). Dinghies, sailboards, paddles, canoes, kayaks, coastal cruisers… Take part in many activities and enjoy concerts and good food!
TECHNOLOGY
VIVATECH
Europe's biggest startup and tech event is taking place from 16 to 19 June both physically in Paris and virtually all around the world. 12 startups from Normandy have been selected to be a part of the WE ARE NORMANDY team that will showcase Norman innovations and digital know-how on a 70 m2 stand at the heart of the event.
ENJOY NORMANDY VIRTUALLY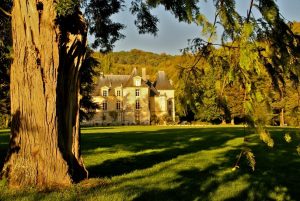 FOCUS ON… ACQUIGNY CASTLE
Discover the "Château d'Acquigny" (Eure county). Ordered by Anne de Laval as a tribute to the eternal love for her husband, this castle was created by the architect Philibert de l'Orme during the mid-sixteenth century, who based its shape on the four intertwined initials of the happy couple: A.L./L.S.
Have a look at the castle's website here to know more about the history, architecture and beautiful English gardens that surround this unique castle. Don't miss the videos about the castle right here.
MUSICAL BREAK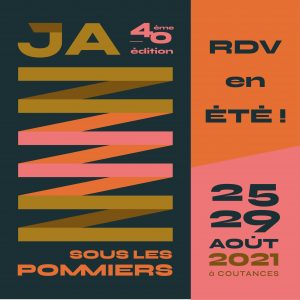 Jazz Sous les Pommiers should have been happening right now in Coutances (Manche). Due to the pandemic, the 40th edition will take place in August this year. While we wait, here is a little video that will take you right in the middle of this internationally renowned festival: Coutances : "Vachement Normand !" en immersion au cœur du festival Jazz sous les pommiers (francetvinfo.fr) – full video at the end of the article.
NORMANDY ON YOUTUBE
The 3rd conference for Norman Languages took place on 22 May. Have a look at the very interesting replay on the Region Normandy Youtube channel.
Keep on browsing through the channel and take a look at the playlist about Agriculture in Normandy that is showcasing what our beautiful region has to offer including tasty recipes that can be made with local products.

PLAN AHEAD
Tourist information centres are staying active online. Find the ones from your favorite Norman towns, follow them on Facebook, Instagram, Twitter or subscribe to their newsletters.
Here is the list of Tourist Offices in Normandy 
The tourist offices teams from La Manche and Normandy are also giving you great content to dream about Normandy and plan your future trip.
(Re)discover La Manche by visiting La Manche Tourism website
Stay Informed & Safe
To find out everything about the advice and measures taken by the French government, you can visit: https://www.gouvernement.fr/info-coronavirus
If you would like further details on how the situation is evolving in Normandy, you can refer to the following websites:
• The Regional Prefecture's website: http://www.prefectures-regions.gouv.fr/normandie
• The Regional Health Agency's website: https://www.normandie.ars.sante.fr
Stay safe and see you soon!
Maison de la Normandie et de la Manche's team