This post was written by Anaïs Niobey
Newsletter from Normandy – November 2020
We hope that you are well.
Our "What's on in Normandy?" newsletter is back to its unusual format as France enters its second lockdown that will last the entire month of November.
This lockdown entails the closing of bars, restaurants, cultural locations and any place that receives public. Primary and secondary schools remain open and French people are allowed to go to work only when working from home is not possible. Otherwise, they should be staying home and are allowed 1 hour outside per day, no more than 1km from their home.
Restrictions are back and life will change for one more month in the hope of limiting the surge of Covid-19 cases and maybe allow us to enjoy the end of the year festivities with a trip to Normandy!
While we await patiently for life to come back to normal over the channel, here are a few advices to keep Normandy close.
POP IN MAISON DE LA NORMANDIE ET DE LA MANCHE!
We have all the information you need to dream and plan your future trip to Normandy. We are asking you to respect a few guidelines when entering but you are most welcome – with a mask on!
PRODUCTS FROM NORMANDY are available in our shop and we will receive a new selection of products in the upcoming month…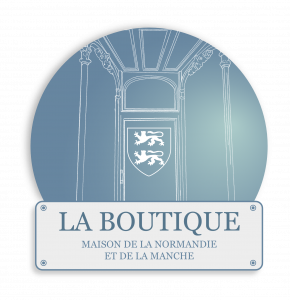 Books, bags, soaps, sweet and savoury biscuits, caramel, nougat… We are looking forward to present to you our winter collection that will come embelish our current offer made of:
• Biscuits by Biscuiterie de l'Abbaye
• WW2 memorabilia by Mémorial de Caen
• Well-being hampers by Les Sabots d'Eugénie
• Tea and jam by Les Délices de Camille
• Postcards and posters by L'Oeil Bleu
Stay up-to-date by following us on La Boutique Facebook.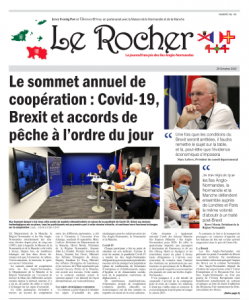 GET A FREE COPY OF LE ROCHER 
If you would like to practice your French, come by our office to get the last edition of Le Rocher: the one and only French newspaper in the Channel Islands.
You can also have a look at the online version here.
Little tip: once on the page, go to the menu (top right), click on "Archive" and discover all the past editions…
DISCOVER NORMANDY VIRTUALLY
More than 60 museums in Normandy have decided to share their collections online.
With nearly 70,000 objects, this portal offers a beautiful panorama of the heritage preserved in the museums of Normandy. These works of art, objects, documents… cover a very wide historical period, from Prehistory to the 21st century.
Have a look here: Collections Musées Normandie.
A special exhibition highlights the women in arts here.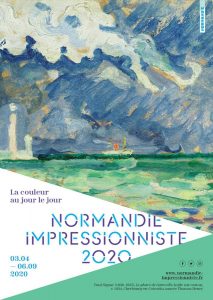 In the last few months, we have talked about the 4th edition of the festival  Normandie Impressionniste that took place all over Normandy since 4 July and will end on 15 November.
To punctuate the end of this festival, an international symposium will take place virtually from 9 to 13 November.
Find out more and register here: Collecting Impressionnism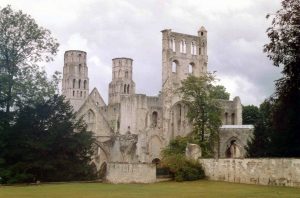 Built in the VIIIth century, destroyed by the vikings and rehabilitated by William the Conqueror who inaugurated it in 1067, the Jumièges Abbey is one of the most important and biggest monastery in Normandy.
You can now visit this impressive monument nicknamed "the most beautiful ruin in France" virtually here and have a look at the exhibitions held within its walls in the past 3 years here.
On the 8th of October, the documentary "Alderney, the War Years" by Charlie Gauvain was screened in front of a full house in Equeurdreville (Manche).
The projection was followed by a discussion between the director, Charlie Gauvain, Roger Friedman, deported from Alderney and David, his son.
This conversation can be watched here.
PREPARE YOUR NEXT TRIP
Tourist information centres are staying active online. Find the ones from your favorite Norman towns, follow them on Facebook, Instagram, Twitter or subscribe to their newsletters.
Here is the list of Tourist Offices in Normandy 
The tourist offices teams from La Manche and Normandy are also giving you great content to dream about Normandy and plan your future trip.
(Re)discover La Manche by visiting La Manche Tourism website
Stay Informed & Safe
To find out everything about the advice and measures taken by the French government, you can visit: https://www.gouvernement.fr/info-coronavirus
If you would like further details on how the situation is evolving in Normandy, you can refer to the following websites:
• The Regional Prefecture's website: http://www.prefectures-regions.gouv.fr/normandie
• The Regional Health Agency's website: https://www.normandie.ars.sante.fr
Region Normandie and the Regional Health Agency have created videos to give us tips on masks and gloves. Click on the images below to see the videos and practice a bit of French.
Stay safe and take care of yourselves and your loved ones.
Maison de la Normandie et de la Manche's team