This post was written by Anaïs Niobey
Due ferries cancellations, the Norman-French Christmas Market had to change its dates.
Norman Christmas Market 2017
from 15th to 19th December 2017
La Maison de la Normandie et de la Manche, jointly with Jason Maindonald, is organising the popular Norman Market (French Market) which will take place from 15th to 19th December on the WEIGHBRIDGE (St Helier).
One trader (cheese) will be there from Friday morning and the others will arrive on Friday afternoon.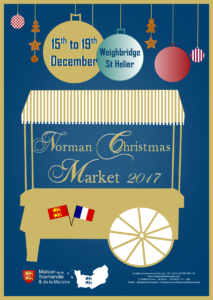 Enjoy the French atmosphere and find the perfect gifts for your loved ones!
Take a little piece of France at home with a selection of typical French products (you may also enjoy them on the spot as we will provide chairs and tables on the Weighbridge)!
You will be able to find French food and beverage and enjoy hot cider, poiré, pommeau, calvados, apple juice, wine, Norman biscuits, saucisson, dried ham, homemade croque-monsieur, sausage baguettes or waffles, cheeses, etc.
A variety of bags, jewels, scarfs and hats will also be available to prepare your Christmas gifts…
Many thanks to Gavin Farmer from the Merchant House Brasserie, the Parish of St Helier, The Bailiff Chambers, Jersey Development Company, Jersey Customs, and last but not least: the population of Jersey for their continuous support.