This post was written by Christine Bonhomme
A special evening of cinema
Come and join us on Tuesday 30 August at Maison de Normandie for a very special event!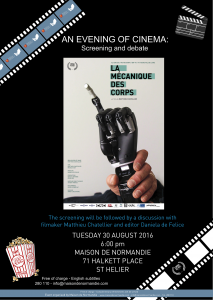 At 6:00PM, we will screen the documentary (with english subtitles) "La Mécanique des Corps" by norman filmaker Matthieu Chattelier. This 78min film will show you the amazing journey of amputees rediscovering their bodies when receiving prosthesis.
The screening will be followed by an open discussion with filmaker Matthieu Chattelier and editor Daniela de Felice.
Free of charge & complementary drinks.
For more info: 280 110 or info@maisondenormandie.com