This post was written by Anaïs Niobey
Newsletter from Normandy
July 2021
We are very happy to announce that Maison de la Normandie et de la Manche's office in St Helier is opened to the public since 1st of July.
Click here to read the press release (in French) of the presidents of Région Normandie, Hervé Morin; County Council of La Manche, Jean Morin and Maison de la Normandie et de la Manche, Jean-Marc Julienne.
We are open Monday to Friday, from 9:30 to 17:30 and are very much looking forward to seeing you again!
If you are planning a trip to Normandy in the upcoming month, here is our newsletter that will give you some ideas of events taking place just across the Channel.
WHAT'S ON IN NORMANDY
France has opened up again its museums, cinemas, theatres, sport events, terraces… Here is a selection of events that will be taking place over the month of June.
FOCUS ON DEAUVILLE
Deauville (Calvados) was designed with tourists in mind. It emerged from the sand dunes in the 1860s, thanks to the vision of one Dr Joseph Olliffe and his close friend, Emperor Napoleon III's half-brother, the Duke de Morny.
Internationally recognised, Deauville is especially known for its American Film Festival and its emblematic wooden boardwalk by the sea. From 2 to 4 July, the public is invited to take a stroll on these famous "Planches" to discover the very first festival "L'appel du large". 30 contemporary artists are taking over the beach with a programme combining installation, sculpture, painting, performance, scenography, dance and song.
This first week-end of July will also mark the beginning of the season for the Deauville-Clairefontaine racecourse that will host three equestrian disciplines: flat, trotting and obstacle, until October. Find out more here.
FESTIVALS ARE BACK
Click on the titles below to know more.
From 1 July until 28 August, discover a range of classical music concerts in beautiful places in Seine-Maritime County.
This well-known street arts festival will be happening over two week-ends this year as a way of welcoming back culture in the streets with open arms. From 1 to 4 July and from 7 to 11 July in Granville (Manche).
From 8 July until 28 August, enjoy artistic performances every Thursday and Friday in the streets of Caen (Calvados). "L'Art est public" – "Art belongs to the public" is the leitmotiv of this unique festival.
This festival taking place in Villedieu-les-Poêles-Rouffigny (Manche) from 8 to 11 July intends to raise awareness on environmental issues through workshops, conferences and concerts.
A music and dance festival celebrating cultures around the world. From 9 to 14 July, discover traditions from Chili, Martinique, Ukraine and Ireland in Alençon (Orne).
Listen to a great selection of artists playing in wonderful settings by the beach of Montmartin-sur-Mer (Manche) from 16 to 18 July.
An eclectic programme of music and other events is waiting for you in the Mont-Saint-Michel bay (Manche) from 24 July to 1 August.
VIKING TOUCH
Meet knights, master of arms, escuyers, merchants and musicians; attend chivalry tournaments and Viking fights… An entire weekend of medieval festivities on 17 & 18 July in the castle of Harcourt (Eure).
Explore William the Conqueror's castle in Caen ( Calvados) alongside troubadours, knights and vikings on 20 July.
Vikings will be honored on 31 July & 1 August in the Abbey of La Lucerne d'Outremer (Manche) with conferences, guided tours and a viking market.
Enter the historic park of Ornavik in Hérouville-Saint-Clair (Calvados) and dive into the origins of the Norman culture. You will also be able to discover the last addition of the park: the Langvin, a drakkar coming directly from Norway. Open everyday until 31 October.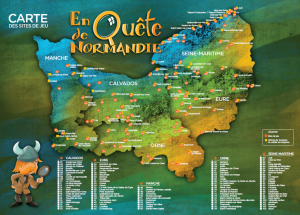 ALL AROUND NORMANDY
Between 3 July and 7 November, follow the map and solve as many puzzles as you can amongst the 416 that have been created by more than 100 towns around Normandy.
The 17th edition of the European Night of Museums is taking place on 3 July. Visit a wide range of cultural sites, after hours and free of charge.
Discover the most beautiful heritage sites of Normandy in a new light. Have a look at the map and find out where and when you will be able to see those unique illuminations.
PLAN AHEAD
Tourist information centres are here to help you plan your stay in Normandy. Find the ones from your favorite towns by following this link: Tourist Offices in Normandy  and start planning!
The tourist offices teams from La Manche and Normandy are also giving you great content to dream about Normandy and plan your future trip.
(Re)discover La Manche by visiting La Manche Tourism website
Stay Informed & Safe
For specific information (in English) on travel to France, go to: Coronavirus – Advice for Foreign Nationals in France – Ministry for Europe and Foreign Affairs (diplomatie.gouv.fr)
To find out everything about the advice and measures taken by the French government, you can visit: Info Coronavirus Covid-19 | Gouvernement.fr
If you would like further details on how the situation is evolving in Normandy, you can refer to the following websites:
• The Regional Prefecture's website: Accueil | La préfecture et les services de l'État en région Normandie (prefectures-regions.gouv.fr)
• The Regional Health Agency's website: Agence régionale de santé Normandie | Agir ensemble pour la santé des Normands (sante.fr)
Stay safe and see you soon!
Maison de la Normandie et de la Manche's team