This post was written by Anaïs Niobey
THE ONLY SHOP WITH 100% NORMAN PRODUCTS IN JERSEY
Do you miss travelling to France right now? Pop in 71 Halkett Place, St Helier and browse through our latest collection of  100% Norman products that you won't find anywhere else in Jersey!
La Boutique offers a large selection of savory and sweet biscuits, nougats, chocolate, tea, jams, bags, hammocks, books and also spreads such as pâtés, rillettes, vegetables spreads and much more!
All-year round, you'll find in our shop a selection of "essentials" / "best-sellers" but La Boutique also operates with "capsule collections" system. Therefore, we have a selected number of items for a limited period that we renew regularly in order to discover the variety of products Made in Normandy !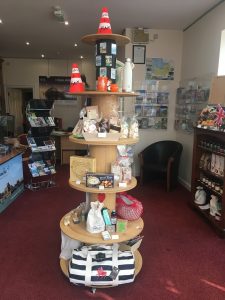 Pop in Maison de la Normandie et de la Manche – 71 Halkett Place – St Helier Monday to Friday from 9.30am till 5pm.
For our #1 2021 collection, we present products from the following new suppliers  :
Of course, we also have some products from :
La Maison du Biscuit, Sortosville-en-Beaumont (Manche)
Biscuiterie de l'Abbaye (Orne)
Caramels d'Isigny (Calvados)
APEI Région Dieppoise (Seine-Maritime)
Les Produits de la Ruche (Manche)
Le Père Roupsard (Manche)
Les Fermes d'ici (Calvados)
Mme Green (Calvdos)
Filt1860 Cherwood (Manche)
Orep Editions (Calvados)
Le Savon Normand (Eure)
L'Oeil Bleu (Manche)
Les Délices de Camille (Manche)
Le Mémorial de Caen (Calvados)
Les Sabots d'Eugénie (Manche)
Blanchet SAS (Manche)
Have a look at our updated catalogue of products:
Currently, you also have the one-off opportunity to buy by-products from "Les Sorties de Bains" (Street Art Festival organised every year in Granville), as we are presenting a temporary exhibition, in our shop windows, about The Street Art Festivals in Normandy  !
Send us an email at info@maisondenormandie.com to pre-order products or to subscribe to our dedicated Shop Newsletter to receive updates  about our new collections & items and about our promotion & sales!
If you're a retailer in the Channel Islands willing to find suppliers in Normandy, our shop is a great way to discover the abundance of suppliers and to learn more about business opportunities. We can help you getting in touch with Norman companies! Do not hesitate to contact us.
Follow us on Facebook : @LaBoutiqueNormandeJersey